Rafe Britton
Lubrication Explained & Lubrication Experts
Lubrication Field Challenges
Practical knowledge of machine lubrication is sorely lacking on site, and the technicians responsible for lubrication programs are commonly the bottom of the organizational "totem pole".
This fact has major implications for how new technologies are adopted in the field. Rafe Britton is here to discuss the state of field maintenance and what it means for early-stage research programs.
The talk aims to cover the latest developments in an environmentally-friendly plasma electrolytic oxidation (PEO) ceramic coating technology for light metals. It will present the benefits of the high performance coatings in terms of corrosion, wear and thermal protection; protection against cold welding, thermal management and low reflectance. Results from various space qualification tests, corrosion and wear data are presented. Success stories on flight missions for NASA, ESA, JAXA and Airbus works will be discussed. Attempts on comparisons with some other oxide coatings such as thermal spray and anodising will be made. Coating applications including automotive, aerospace, oil & gas, biomedical and semiconductor will be briefly touched upon.
technical notes from our partners
Browse some of our most recent events.
This selection features a wealth of topics covered by our world-renowned speakers.
Surface Ventures is a not-for-profit organization with a mission to provide monthly webinars and workshops featuring well-established international researchers in the field of surface engineering.
Every month, we will bring you a sector-leading speaker to present the current challenges and future trends in their field.
Our events are free to attend. Forever.
It has never been easier to access the valuable insight of high-calibre academic and industry professionals and engage in valuable discussions surrounding surface engineering.
We are supported primarily by volunteers, looking to make industry discussion more accessible and valuable to all.
Tomasz Liskiewicz
Founder & managing director
Tomasz is Professor of Tribology and Surface Engineering at Manchester Metropolitan University where he acts as a Head of Department of Engineering. He is interested in tribology of engineering surfaces, functional properties of thin films and coatings, Industry 4.0 and biomimetics.
Thawhid Khan
Vice President
Thawhid is a senior research associate of Tribology and Surface Engineering at Manchester Metropolitan University. He is interested in tribology, coatings, machinability of super alloys and advanced materials, and in-situ monitoring of the machining interface.
Samuel McMaster
Event Manager
Sam is a materials scientist at Coventry University and Pillarhouse International. He is interested in using nanomechanical testing methods to predict tribological behaviour across length scales  and the application of tribology and surface engineering to novel research areas.
Shubrajit Bahumik
International Ambassador,
India
Shubrajit is working as a Tribologist at Wagner High Quality Lubricants. He is interested in lubricants, solid lubricants, surface textures, tribology of composites, and machining tribology.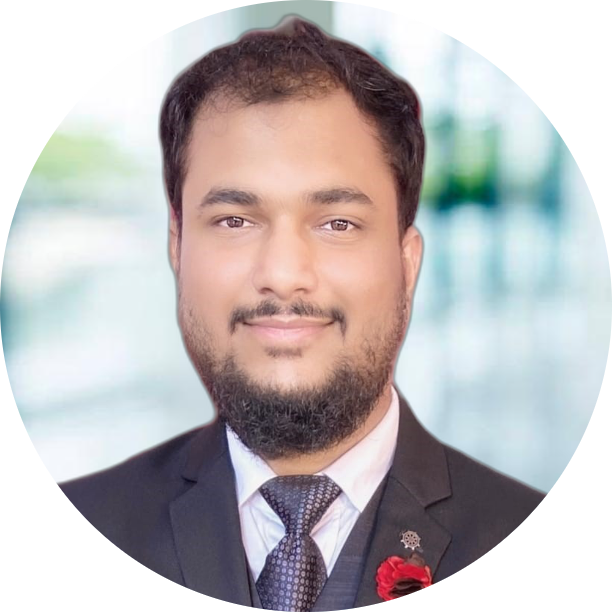 Shahsharif Shaikh
International Ambassador,
Europe
Shahsharif has MSc in Tribology, MBA in Data Science and BEng in Mechanical Engineering. He is working as a nuclear power contract manager at KSB. He has won prestigious scholarships from the European Union and the United Nations.
Bao Feng
International Ambassador,
USA
Bao is a product manager of precision components at Oerlikon Balzers. Prior to Oerlikon, he served the heavy machine industry as a tribological thin films expert for nearly two decades. He is interested in the innovations and the industrial applications of surface engineering solutions.
Sheyla Santana de Carvalho
International Ambassador,
Brazil
Sheyla received her PhD in Metallurgical Engineering and Materials Science from UFRJ and University of Leeds in 2019. She is interested in the evaluation and monitoring of corrosion in Oil and Gas, materials characterization (SEM-EDS and EBSD) and failure analysis.
Yuki Hirata
International Ambassador,
Japan
Yuki is Assistant Professor of Tokyo Institute of Technology. His research field is to synthesize Diamond-Like Carbon film and its application to tribology. He also interested in science and engineering challenges in global area through international activities.
We would not be able to bring these webinars to life without the help of our wonderful sponsors. Through their generosity, we are able to provide these industry-leading webinars to professionals for free.
We are always looking to work with more sponsors who want to keep this sector thriving. Sponsoring one of our discussions is a great way to get your name out there while supporting the work of many academics around the globe. 
If you are interested in working with us, please feel free to get in touch through the contact form below.